As you may know a couple of years ago I was in an accident and found myself in need of a WhatFriendsDo Team. This really shouldn't come as a surprise -- we'll all find ourselves in need of help at some point -- but it was still hard for me to ask.
We're always trying out new ideas here at WhatFriendsDo and for my team, we added a "Daily Check-in" to my calendar. The idea was for friends to sign up and be my check-in/helper for the day. They were instructed to touch base with me in the morning to see if they could help with anything that day. Did I have any errands to be run? Did I need someone to take me somewhere? Did I want lunch or coffee?
Turns out I loved this new idea we tried! I told the WFD Team that one of my friends, Mary, nailed this task so we thought we'd share her method so when other teams set this type of help up for a friend, they'll know exactly how to do this.
Here is what Mary did:
8am: Mary texted me to tell me she was the helper for the day and see if I needed anything that morning.
12pm: Mary texted to see if she could bring lunch, see how I was feeling, or needed anything else.
3pm: Mary texted letting me know she was heading out on errands and wanted to know if she could help with anything. (Turns out I needed more ice and that was perfect timing!)
7pm: Mary texted for one last check-in to see if I needed anything for bed time.
Now that's what I call a check-in!
The Daily Check-in worked even better than any of us at WhatFriendsDo could have imagined, which is why we are sharing it with you. It has become one of the top ideas we suggest to new teams. It's as easy as the team organizer adding Daily Check-ins to the shared calendar and then team members can sign up for a day that works for them.
We've simplified what Mary did into 3 simple texts that go something like this: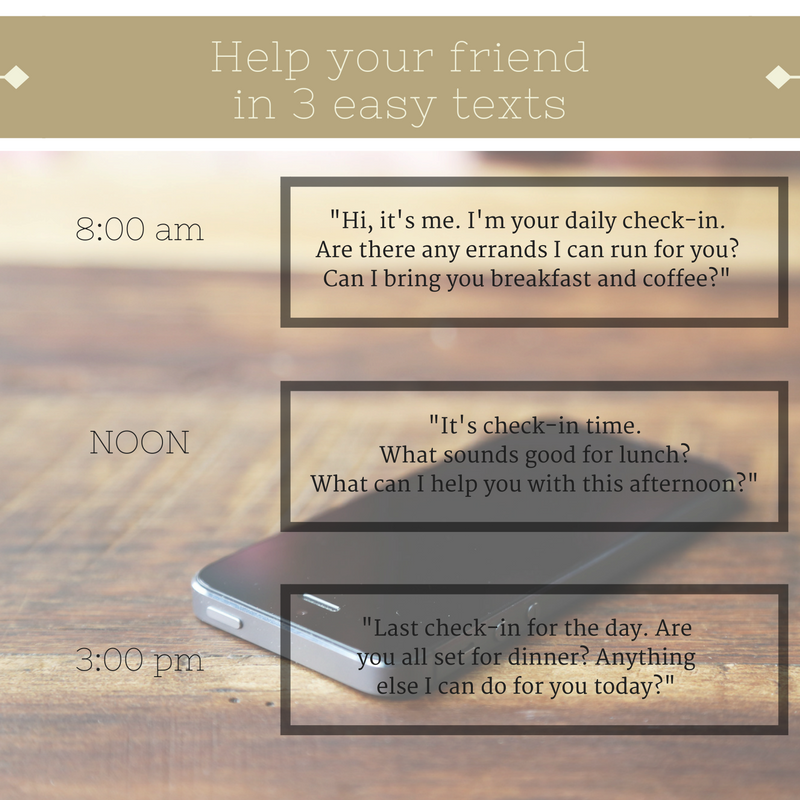 8am: "Hi, it's Jill. I'm your daily check-in. Are there any errands I can run for you? Can I bring you breakfast and coffee?"
12pm: "It's check-in time. What sounds good for lunch? Can I bring you something? What can I help you with this afternoon?"
3pm: "Last check-in for the day. Are you all set for dinner? Anything else I can do for you today?"
Your friend may not need anything at all but knowing someone is there who will be checking in can bring great comfort. Remember to add reminders to your phone so you don't forget to check-in!
If you have a friend going through a tough time, like an illness, death in the family, or accident recovery, consider setting up a WhatFriendsDo page for them or Start a Team now.