Was up early this morning to put together my favorite "go to" WhatFriendsDo meal -- the weekend breakfast basket. It felt like the crack of dawn, but considering it was for my cousin and his wife who have newborn triplets, I figured I had no excuse. So.... I got up, put on the coffee and started breakfast. I made muffins first and made two kinds -- blueberry and lemon poppyseed. While they were baking, I started preparing the ingredients for the quiche. As the quiche was baking, I was busy pulling the rest together and got a big assist from my husband who went to Einstein Bros. Bagels and picked up their requested favorites (I usually try to get local donuts or bagels in addition to whatever else I take). I cleaned some apples (always a good idea so they can just eat them), got all of the store bought items ready to go -- OJ, paper plates (another convenience item for those with no time for washing dishes), Eggos (my cousin's request) and a few other things. As I was gathering everything on the table, it was really coming together. I wanted it to have a nice presentation, because I always think when it looks good, it makes it feel even more special. While it was no match for HGTV or Pinterest and definitely not fancy, by my standards, it was looking pretty good.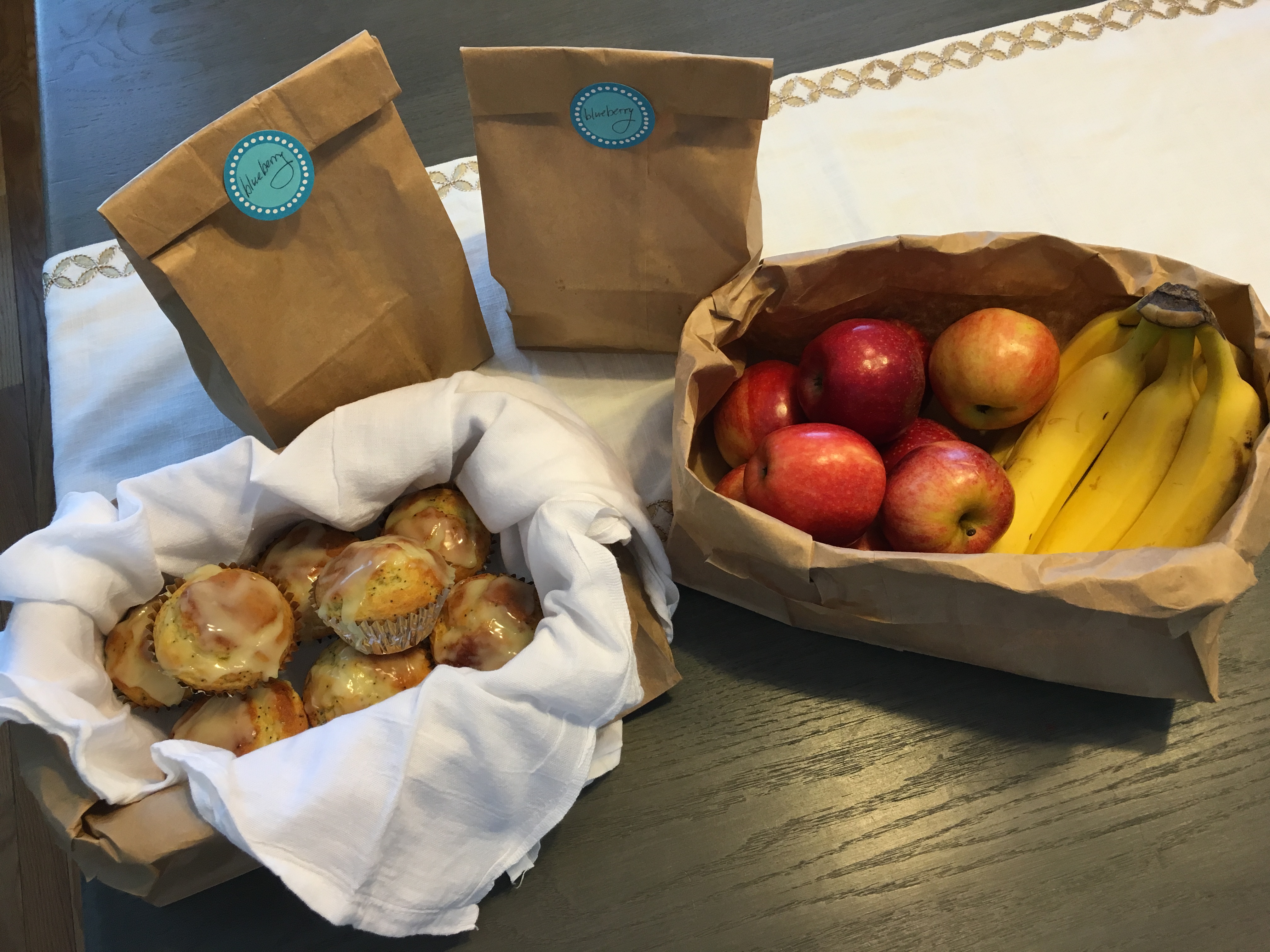 So, I got a little lazy and bought fruit that was prepared and cleaned by the grocery store (remember I did clean the apples, though). I always try to include fresh fruit and even when I do prepare it myself, I like to keep it separated b/c I've yet to meet two people who make fruit salad the same way.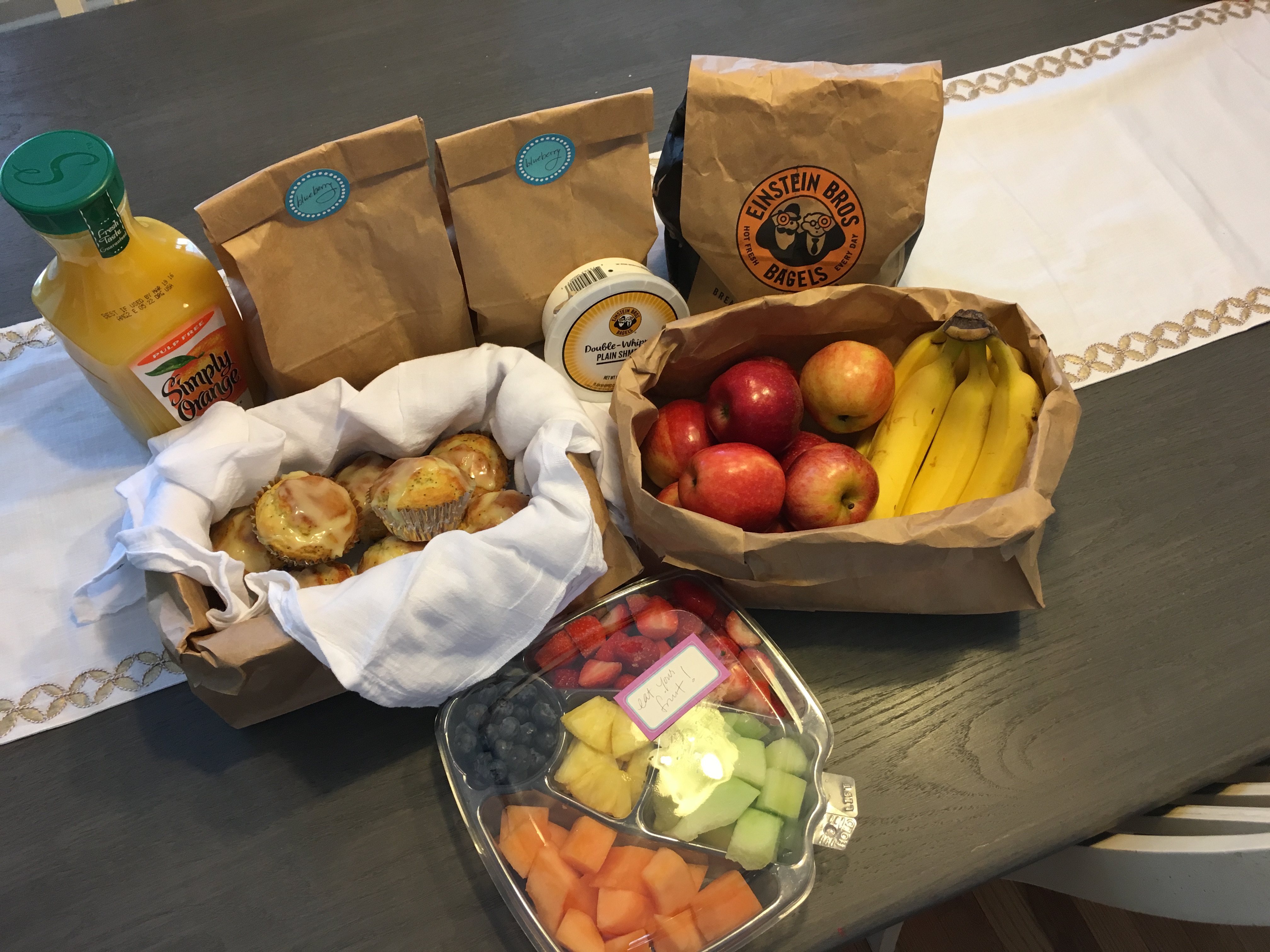 The finishing touch was the quiche made with sauteed onions, cheddar cheese, bacon and spinach. It turned out fine but on the drive to their house, I remembered I left out the heavy cream. Oops! They said that it was good so I was glad I didn't forget the most important ingredient -- love (cheesy, yes, but I swear it truly does make things taste better). While en route, I called to ask if there were any requests for coffee (I usually do this on my way to deliver a breakfast basket as one last special treat) but they declined.
All in all, it was a great morning. It always turns out to be so much fun preparing and delivering a breakfast basket. Taking a meal (meaning dinner) to friends always stresses me out but for some reason, I enjoy making the breakfast basket which is why it's my "go to" WhatFriendsDo idea. It was fulfilling to start my day doing something purposeful that I knew was going to be truly helpful. As an added bonus, I got to see the boys (the twins of the triplets). Baby Grace will join her brothers at home any day now. I have to get vaccinated before I can get my hands on them.
One last note is that I always try to bring extra food which is why you see so much food in the pictures. The weekend breakfast basket is meant to last for the entire weekend and often, it can last well into the week. The only thing I would change about today's delivery and that I'll be sure to get right the next time is -- TAKE MORE BACON!