I just read an article full of tips to help tackle your to-do list and prevent procrastination. Reading the article seemed a prefect way to put off my current to-do list! The first suggestion was to start with the hardest item on your to-do list, the one you are most dreading.
On the top of my to-do list for the past four weeks (yes, I know!) has been to contact a friend who told me the week before Christmas that she and her husband lost a baby they were expecting. I want to reach out to her right then. To say I'm so sad for them. Tell her she has been on my mind almost daily. But in the hustle and bustle of the holidays I didn't get around to it. Then after the New Year, kids went back to school, things were busy with work, and I still didn't send her a message. I continue to drive past her house almost daily and think about her, and her lose, and the precious baby she will never hold. But it's been so long now since she shared this information with me, I feel guilty for not getting back to her sooner.
Right now I'm thinking too much about me, and my guilt and shame, and it's NOT ABOUT ME. It's about her. And I'm sure she's still hurting from her loss and she needs friends close right now.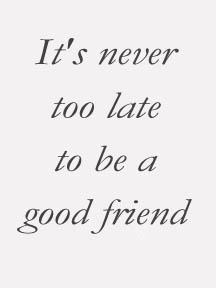 So right now, I just sent an email to her. It was short and to the point.

"Are you free for lunch this week? Tuesday and Wednesday are best. What works for you?
You have been on my mind daily and I'm so sorry it has taken me this long to reach out.
I look forward to giving you a hug soon."

It's checked off my list, which is nice for me, but what's best is that I've reached out again. No, I shouldn't have taken this long, but I did. Now I need to move forward and be the best friend I can be. She is going through a very difficult time and needs support, no matter how long it has been.

No matter what the situation, or how long you have waited, get back in touch, because it's never too late to be a good friend.