As summer winds down, parents and kids alike start to feel the anxiety of getting ready to go back to school. There are school supplies to purchase, back to school nights to attend, bed time and morning routines to get back into and oh so much more. This leaves many of us scratching our heads wondering, "What happened to summer break?"
For a parent who may be undergoing cancer treatment, recovering from an accident or even caring for a newborn, these routine back-to-school tasks can be downright daunting. And, for parents of a sick child, getting their other children ready for school can seem nearly impossible.
We've created an easy "how to" checklist to help take this burden off your friend. So, get some friends together, assign tasks and divide and conquer this list in no time!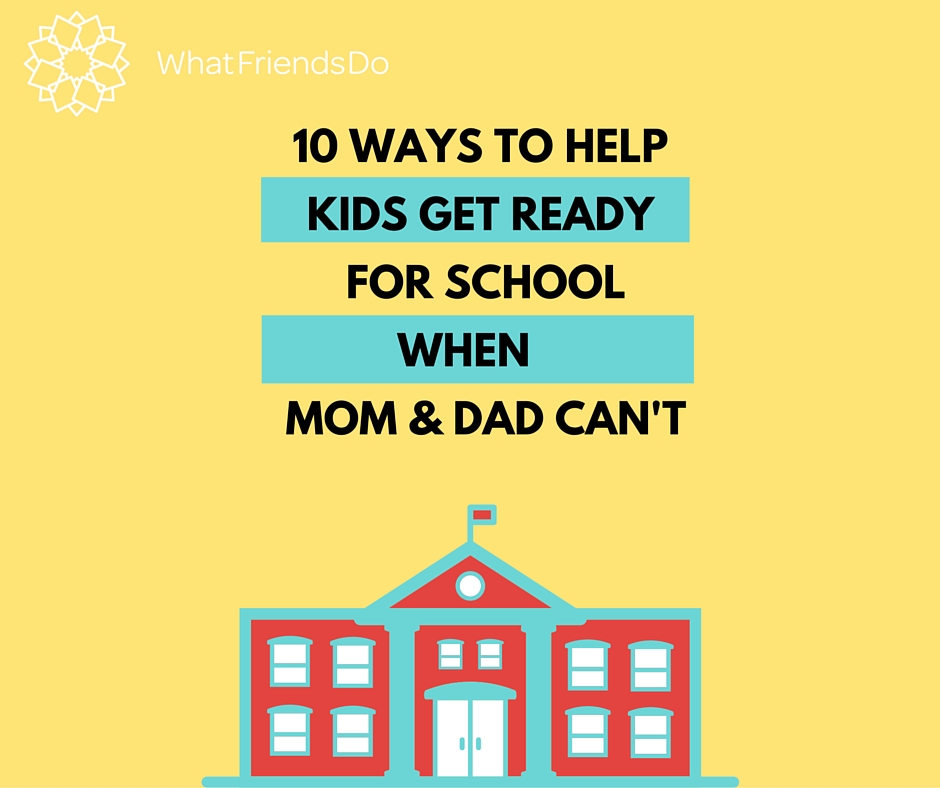 1. Help get school supplies
This dreaded task for parents can often be fun for kids. Collect the supplies list from school (check the school website) and turn this "to do" into a special treat for the child. Be sure to get a lunchbox and backpack if last year's have seen better days.
2. Help shop for new school clothes
Figuring out how to work this into the schedule is likely weighing on mom and dad, because this may take a little time, especially if you're dealing with teens. First, be sure to have them try on last year's clothes to see if anything still fits. Then, take inventory of what is needed and don't forget to put socks and underwear on the list! If buying school uniforms, check the school website first.
3. Take to buy new shoes
Showing up the first day of school in a new pair of shoes is sure to put a kick in their step. As with clothes, be sure to get the size right and make sure they fit in with the school dress code.
4. Take to get a hair cut
A new hair cut will ensure those first day of school pics are memorable (hopefully in a good way). Ask mom or dad where they take the kids since the last thing we want to do is send them off to school with a bad hair cut. Also, check to see if there are any restrictions since they may not be down with mohawks or purple streaks.
5. Offer to take first day of school pics
Speaking of first day of school pictures, plan to show up before school and take pictures of the kids wearing those new clothes and shoes and showing off that new hair cut. If mom or dad are with a sibling in the hospital, offer to relieve them so they can be home to send the kids off to school themselves.
6. Go grocery shopping for lunch food
If the kids don't plan to eat school lunch, there is still more shopping to do. Find out what they like and then make this easy on all and buy some individually wrapped foods like chips, granola bars, cheese and drinks. Remember to include something healthy, like an apple or carrots, and don't forget the main entree like a PB&J or ham and cheese sandwich.
7. Pack lunch boxes
While on the topic of lunch, another thing that needs to get done every day is packing the lunches. If the kids aren't old enough to pack their own lunches, consider taking on the task of packing lunches for a few weeks.
8. Make breakfast
Help get the day started right by making sure the kids eat a healthy breakfast before school. This can be as simple as cereal with strawberries or toast with a banana. While many of the other tasks listed here are a one time shot, packing lunches and making breakfast, need to be done every day.
9. Take to back to school events
Find out when these events are for each child and offer to be a stand in. These can be a big deal for kids, especially if just starting school or if transitioning from one to another. Be sure to collect any necessary papers and take good notes for mom and dad.
10. Help with homework
One of the hardest parts about getting back into the routine of school is homework! Set a time after school to be available to help with and proofread homework. Getting an older child (not a sibling!) involved can be a great way to motivate children to do homework. They often look up to older kids and this may help turn this dreaded task into some fun one-on-one time with a mentor.
If your friend is in need of this type of help but doesn't have a WhatFriendsDo team page, it sounds like it's time to start one! It's super easy to start and every one of these tasks can be managed through a shared calendar so a team of supporters can sign up for tasks and help lighten the load for all. Just go to www.whatfriendsdo.com and select Start a Team, and you'll be up and running in no time.
If your friend is struggling financially and you can afford to help, consider purchasing something on this checklist as a gift. To help from afar (or from the comfort of home), take a look at our Amazon back to school list where you can buy some of the most popular school supplies. Or, better yet, add a customized Amazon wish list to your friend's WhatFriendsDo team page.
If you have questions, need help setting up a time or are looking for more personalized ideas, contact us at info@whatfriendsdo.com. We love to help -- afterall, that what friends do.